Easton High School


Class Of 1956
In Memory
William Washington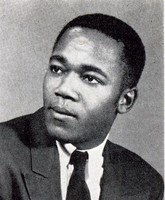 William Washington Jr.

William Henry "Booker" Washington Jr., peacefully passed from this earthly life into eternal life at the Health South Regional Specialty Hospital in Mechanicsburg, PA.(July 10, 2006)
Born: On August 12, 1935 (his earthday) in Bethlehem, Pa. William, aka "Booker" aka "Sonny" aka "Junior" was a son of Nora Pat Kent Washington Kannon and the late William H. Washington Sr
Personal: He graduated from Easton High School in 1956 and received a full four year scholarship to the University of Texas A&M. he was a veteran of the Army and was stationed in Fort Dix in New Jersey. He served his country faithfully until being honorably discharged on May 10, 1958.
He was a great football player and in his later years an avid golfer. He retired from PP&L Electric Co. after 31 years of devoted service.
Survivers: He is survived by three sons, William "Peanut" Washington of Reading, Pa., Darrell Washington of Harrisburg, Pa, and Jerry Keys of Steelton, Pa; a daughter, Cassandra Washington and a devoted companion, Stephanie Keys, also of Steelton, Pa; two sisters, Mildred Gilbert of Easton, Pa, and Willie Mae Evans of Pleasanton, Ca; four grandchildren; nieces and nephews, great and grand.

His wife, Mercedes, and a son, Darin, both died earlier.
Services: William's homegoing was held Friday, July 14, 2006 at My. Zion Baptist Church, Steelton, Pa. interment will take place Tuesday at 10 a.m. in the Indiantown Gap National Cemetery, Annville, Pa.
Memorials: Even with having the love of his family members past and present, Booker recieved the greatest love of all by becoming a member of the Family of God on May 20, 2006 at 3:45 p.m. (his birthday). He left this world on July 10, 2006 at 2:30 p.m., recieved by Christ with all the benifits bestowed to Christians of many years his junior. He will be remembered for that special "Wink" he so lovingly displayed to his friends and family