Easton High School


Class Of 1956
In Memory
Henry Travis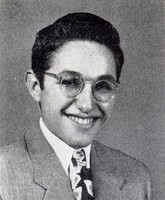 Clayton H. Travis
Clayton Henry Travis, 67, died on Wednesday, February 1, 2006 at a Brewer healthcare center.
Born: On November 10, 1938 in Easton, he was the son of Clayton W. and Dorothy I. Miller Travis.

Personal: Clayton was a graduate of Easton High School and served in the Marine Corps from 1956 until 1962. He had been employed as a bus driver for more than 40 years, and had retired from the Maine Turnpike Authority. Clayton was very much a sports enthusiast, enjoying both summer and winter sports.

Membership: He was a member of the Highland Park Lodge No. 240 AF&AM of Trenton, NJ. Scottish Rite Bodies of Bangor, and Anah Shriners.

Survivors: He is survived by his wife, the former Kathy Ann Sweger of Scarborough; three children, Coni E. Travis of Nazareth, PA, Alice M. Bisher of Allentown, PA, and Dorothy I. Travis of Dedham; four grandsons, Bruce Reaser, Brian Reaser, Michael Bisher, and Andrew Bisher; a great grandson, Jordan Reaser; four stepchildren, Glenn, Kimberly, Karen, and Brenda; a brother, William Travis of Pennsylvania; nieces; and one nephew.

Services: A memorial service will be held on Wednesday at 10 a.m. at Brookings-Smith, 133 Center Street, Bangor, ME with the Rev. Robert T. Carison, Chaplain, Penobscot County Sheriff's Department officiating. Interment will be held on Friday, February 27, 2006 at 11 a.m. in the Northampton Memorial Shrine Cemetery, Palmer Township, PA.

Memorials: Those who wish to remember Clayton in a special way may make gifts in his memory to the Shriner's Hospital for Children, care of Anah Shrine Center, PO Box 735, Bangor, ME 04402-0735