Easton High School


Class Of 1956
In Memory
Frederick Saylor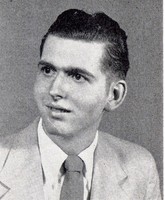 Frederick A. Saylor, bank's loan officer
Frederick A. Saylor, 58, of Oley Turnpike Road, Reading, Pa., died Sunday, Nov. 3 (1996). He was stricken in his home and pronounced dead in St. Joseph's Hospital in Reading.
He was a loan officer in the Easton office of the First Union Bank for more than 40 years, retiring in 1991 due to illness.
Born Sept. 25, 1938, in Philadelphia, he was a son of Margaret Foellner Saylor and the late Frederick W. Saylor.
He was a 1956 graduate of Easton High School.
His hobby was antique electronic trains and he collected old records and amber glass.
In addition to his mother, he is survived by two sisters, Kathryn V. of Easton and Margaret E. of Oxford, Pa.
Services will be held at 3 p.m. Wednesday from the Robert W. Snyder Funeral Home, 327 Easton Road, Riegelsville. Call after 2 p.m. Thursday in the funeral home.
Burial will be in Nockamixon Union Cemetery in Ferndale, Pa.