Easton High School


Class Of 1956
In Memory
Raymond Rawson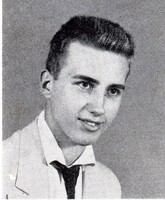 Raymond Rawson Sr., Wilson area leader
Raymond K. Rawson Sr., 62, of Wilson Borough, died Friday Nov. 10 (2000), in Easton Hospital.
He worked in the production quality control, environmental engineering and polymer applications research departments at Pfizer Inc. in Easton for 32 years retiring in 1989. In retirment, he was an industry advisor and director of plastics technology at Northampton Community College.
Born Sept. 13, 1938, in Yonkers, N.Y., he was a son of the late Peter and Eleanor Hoetger Rawson.
He was a member of the Wilson Borough Zoning Hearing Board since 1976 and chairman since 1979.
He was a member of the Bushkill Watershead Association, where he was secretary of the board of directors. he was the Wilson Borough represenative on the Easton Area Joint Sewer Authority from 1990-91, where he was authority chairman and secretary. He was chatrman of the plant operating committee and a member of the adminstratiotive finance committee.
He was a member of the Wilson Area School Board from 1981-91, serving as president, vice president, treasurer and legislative chairman.
He was a member of the Pennsylvania School Boards Association, where he was appointed by former Pennsylvania Gov. Richard Thornburg to the Suoervisionand Evaluation Task Force and was a member of Northampton County Legislative Action Council from 1983-91
He was a member of National School Boards Association Federal Relations Network, where he represented the 15th Congressional District from 1988-91.
He was a member of the Career Institute of Technology, the Mary Meuser Memorial Library.
He was an advisor of the Explorer Scouts of America, Ecology Post No. 987.
He was a baseball coach for Wilson Borough Little League and an addistant football coach for Wilson Vikings Midget Football.
He was a member of eastern Pennsylvania Water Pollution Control Operators Association, The Society of Applied Spectroscopy, the Society of Plastic Engineers ana the Pennsylvania Library Association.
He enjoyed computers photography, plants and flowers,
He was a graduate of Easton High School. He studied chemical technology at Northampton Community College and Lehigh Community College. He studied environnmental engineering at Penn State University, education at Bucknell University and human relations at Dal Carnegie Institute.
He and his wife, the former Shirley Mikosky, observed their 42nd wedding anniversary July 18.
In addition to his wife he is survived by two sons, Raymond K. Jr., and Peter F. both of Wilson Borough; a daughter Katherine L. Fiebrantz of Wilson Borough; two brothers, Elwyn D. of Macungie and Ronald j. of Easton; a sister Janice M. of Easton; a granddaughter and two neices.
Services will be held at 11 a.m. Tuesday in the Strunk Funeral Home 2101 Northampton St., Wilson Borough. Call from 7 to 9 p.m.. Monday in the funeral home.
Burial will be in Northampton Memorial Shrine in Palmer Township.
The family requests memorials to the American Diabetes Association, Lehigh-Berks Field Office, 2045 Westgate Drive, Suite 302, Bethlehemn, PA 18017.