Easton High School


Class Of 1956
In Memory
Alex Kiska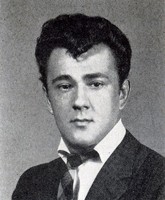 Alex Kicska, 35, Owned Rose Garden
Alex P. Kicska, 35, the owner and operator of the Rose Garden, 3010 William Penn Highway, Palmer Township, died this morning (September 22, 1973) at Easton, Hospital.
He was born in Bethlehem, Oct. 4, 1937, a son of Julia Barbos Kicska and the late Alex Kicska Sr.
He was a remodeling salesman before taking over the Rose Garden in 1969 from his parents.
He graduated from Easton High School in 1956.
He was of the Catholic faith.
He is survived by his widow, the former Mary Ellen Hanlon; a son Alex III, and a daughtrt , Debbie, at home.
Funeral services will be Wednesday at 11 a.m. from the Katinis Funeral Chapel, Wilson. Interment will be in Gethsemane Cemetery.