Easton High School


Class Of 1956
In Memory
Laurence Jones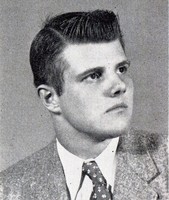 Laurence B. Jones Jr.
Laurence B. Jones Jr., 64, of Vancover, Wash., formerly of Riegelsville, died Saturday, Nov. 20, 2002, in his home.
Born: Feb. 2, 1938, in Frenchtown, a son of the late Laurence B. Sr. and Nita Lovett Jones.
Personal: He and his wife, the former, Paula Gillis, were married for 40 years.
He had been employed by Ingersol-Rand for 17 years and by Boeing Aircraft for 25 years as a machinst.
Survivors: his wife of Vancouver; two daughters, Linda Helton of Las Vegas and Kisa Wood of Vancover; three brouthers, Eugene of Port Orange, Fla., and Lee and John, both of Riegelsville; and seven grandchildren.
A grandchild died earlier.
Services: Memorial services aill be held in Vancover at a later time. The Robert W. Snyder Funeral Home, 327 Easton Road, Riegelsville, is in charge of local arrangements.