Easton High School


Class Of 1956
In Memory
Darwood Giffert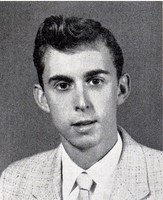 Dr. Giffert, 30, Easton High Graduate
Dr. Darwood (Bud) Giffert, 30 of 213 N. 15th St. Fort Smith, Ark., died yesterday (february 27, 1968) at his home.
He was born Feb. 14, 1938, in Easton a son of Mr. and Mrs. Joseph Giffert, who now live at Easton R.D. 1. Dr. Giffert was graduated from Easton High School in 1956, the Palmer School of Chiropratic in Iowa and Black Halk School of Chiropratic, Mobile, Ill.
Surviving are his widow, the former Ruth Ann Sulbold, and a sister, Mrs. Kenneth Kulp, Easton.
Funeral services will be Friday in Forth Smith.