Easton High School


Class Of 1956
In Memory
John Fackenthal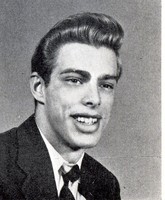 John W. Fackenthal. born in Easton
John W. Fackenthal, 58, of Pine Beach N.J., died Sunday May 3 (1997), in his home.
He was a purchasing agent at Lakehurst Naval Air Center in LLakehurst, N.J., for 31 years before retiring several days ago.
Born in Easton, he lived in Pine Beach for the past 27 years.
He was an active participant and past president of the Pine Beach Children's Soccer Club.
He and his wife, the former Gloria A. Sigafoos, were married 35 years.
In addition to his wife, he is survived by four sons, James E. and Jeffrey, both of Pine Beach, John M. of Bayville, N.J., and Joseph of Wanamassa, N.J.. ; a sister, Anne Marie grayson of Atlanta; and seven grandchildren.
A brother, michael, died November 1996.
The Mastapeter Funeral Home, 400270 Route 9, Bayville, was in charge of arrangements.