Easton High School


Class Of 1956
In Memory
Albert DiPasquale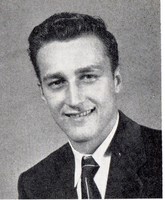 Albert DiPasquale, of Al's Cleaners; honored by Lions
Albert V. diPasquale, 43, owner of Al's Cleaners, Easton, died Monday (May 19, 1980) in St. Luke's Hospital, Fountain Hill. He lived at 2513 Northwood Ave., Palmer Township.
He worked for the cleaning business most of his life and took over the business from his father, Albert DiPasquale, in 1978.
Born in Allentown, on May 8, 1937, he was also the son of Ann Cardinale DiPasquale.
He was an Army veteran and a member of St. Anthony's Catholic Church, Easton.
In 1977, Mr. DiPasquale was named Lion of the Year by the Palmer Township Lions Club, of which he was a member.
Surviving in addition to his parents are his wife, the former Santa DiFrancesco; a son Jeff, and three daughters, Anita, Kelly, and Cathy DiPasquale all at home, and a brother, Gary of Wilson.
The funeral will be held at 8:45 a.m. Thursday in the Morello Funeral Home, Easton, followed by a Mass of Christian Burial in St. Anthony's Catholic Church, Easton. Interment will be in Gethsemane Cemetery.