Easton High School


Class Of 1956
In Memory
Gail Searfoss (Garrison)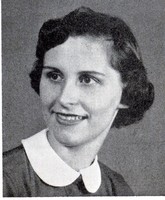 Gail M. Garrison

Gail M. Garrison, 68, of Wilson Borough, passed away Sunday, February 12, 2006 in her home.
On May 25, 1937 in Easton, she was the daughter of the late Walter, Jr., and Mary Smith Searfoss.
Born: Gail was employed as a laboratory technician at Warren Hospital for many years, retiring in 2001.

Membership: She was a member of St. Bernard's Catholic Church, Easton.
.
Survivors: She is survived by a daughter, Doretta Warman of Easton, PA; and three grandchildren
Services: Grave side services will be held on Wednesday at 10 a.m. in Gethsemane Cemetery. Palmer Township. Arrangements are under the direction of the Morello Funeral Home, Inc. 3720 Nicholas Street, Palmer, PA
Memorials: In lieu of flowers, memorials may be made to the American Cancer Society, 3893 Adler Place, Bethlehem, PA 18017; or to the American Heart Association, 212 E. Broad Street, Bethlehem, PA 18018 in Gail's Memory.