Easton High School


Class Of 1956
In Memory
Jacqueline Mucklin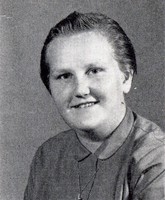 Jacqueline M. Mucklin, born in Easton
Jacqueline M. "Sis" Mucklin, 57, of Nazareth, died Monday Oct. 9 (1995), in Easton Hospital.
Born Aug. 19, 1938, in Easton, she was a daughter of Mildred V. Carty Mucklin of Nazareth and the late Russell J. Mucklin.
She was a member of the Maranatha Family Fellowship Church in Nazareth.
In addition to her mother, she is survived by a sister Barbara A. Werkheiser of Easton; two brothers, Robert J. and Ronald E., both of Easton; three foster sisters, Shirley Avalon of Nazareth, whith whom she lived, Norma sabatine of Martins Creek and Bernice Compton of Pen Argyl; a foster brother, Dennis G. Flyte of Wind Gap; and nieces and nephews.
Services will be held at 2 p.m. in Maranatha Family Fellowship Church, 450 Jacobsburg Road Nazareth. Call 7 to 9 p.m. Thursday in the funeral home. Burial will be in Bushkill Methodist cementery in Clearfield.