Easton High School


Class Of 1956
In Memory
Flora Moser (Bahnck)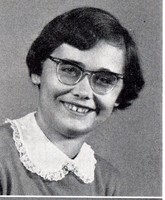 Flora Mae Bahnck, Easton High grad
flora Mae Bahnck, 62, of Hanover township, died monday May 29 (2000), in Muhlenberg Hospital Center.
she was a homemaker.
Born Aug. 3, 1937, in Easton, she was a daughter of Audrey Vliet Moser of Palmer Township and the late Floyd E. Moser.
She was of the Lutheran faith. she was a graduate of Easton High School.
she was an avid reader.
She and her husband, Norman,observed their 41st wedding anniversary in December.
In addition to her husband and mother, she is survived by five sons, Norman Jr. of Fogelsville, Jeffrey B. and Randy F., both of Bethlehem; Scott J. of Catasauqua and kevin B. of Groton, Conn.; a daughter Cindy Gentile of Rockledge, Fla. and five grandchildren.
Services will be held at 2 p.m. Thursday in the Long Funeral Home, 500 linden St., Bethlehem. Call from 1 p.m. Thursday to time of service in the funeral home.
Burial will be in St. john the Baptist Cemetery in Ottsville, Pa.
The family requests memorials to the American Heart Associstion, 212 E. Broad St., Bethlehem, PA 18018