Easton High School


Class Of 1956
In Memory
Rosemarie Monaco (Casella)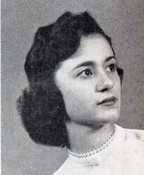 Rose Marie Monaco Casella

Rose Marie Casella, 69, of Wilson Borough, died Saturday, November 17, 2007, in Old Orchard, Bethlehem Township.
Born: She was born May 9, 1938, in Easton, a daughter of the late Anthony and Mamie Misero Monaco
Personal: She and her husband, Henry, professionally known as "King Henry" of "King Henry and The Showmen", had been married 47 years.
She was a secretary at St. Jane de Chantal Catholic Church, Easton for many years before retiring. She was a 1956 graduate of Easton High School.
Membership: She was a member of St. Jane de Chantal Catholic Church.
Survivors: Her husband, Henry; two daughters, Lisa Ann Hoffman and Deanne Marie Cassella, both of Palmer Township; two sisters, Fran Fortunato of Palmer Township and Carolyn Cope of Atlanta Ga; and two grandsons, Evan and Jacob.
Services: A Funeral Mass will be held 10 a.m. Saturday in the church, 4049 Hartley Ave., Easton. Call 7 to 8:30 p.m. Friday in the Ashton Funeral Home, 14th and Northampton Sts., Easton.