Easton High School


Class Of 1956
In Memory
Helen Lucy (Jenkins)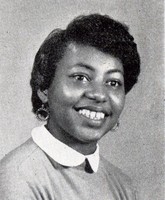 Funeral Tomorrow, For Mrs. Jenkins, 27
The funeral of Mrs. Helen Lucy Jenkins, 27, of 1614 E 3rd At., Bethlehem, a native of Easton, will be held at 2 p.m. tomorrow at the Fritz memorial Methodist Church, Packer and Montclair avenues, Bethlehem.
Mrs. Jenkins died yesterday (November 3, 1966) in St. Luke's Hospital of burns suffered when her clothing caught fire in a smoking accident in her hospital room two days earlier. She suffered first, second and third degree burns over threefourths of her body.
Mrs. Jenkins was a daughter of William and Mary Wise Lucy, Easton. She was the wife of Carl Jenkins.
She was a licensed pratical nurse and was employed at St. Luke's the last two years. She was a medical patient at St. Luke's at the time of the accident.
Suvivors include a son, Milton and two daughters, Clara and Deborah, all at home; a brother, S. Sgt. Earl Lucy with the U.S. Air Force in viet Nam and two sisters, Mrs. Harold Beasley, Washington, N.J., and Miss Mary Lucy, Easton.
Arraingements were made by the Shupp Funeral Home, Bethlehem.