Easton High School


Class Of 1956
In Memory
Susan Krash (Novick)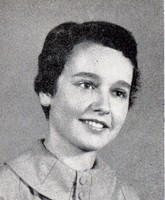 Surrounded by a large and loving group of family and friends, Susan (Krash) Novick died at the age of 66 on Monday December 5, 2005, in Vineland after a long, valiant fight against pancreatic cancer.
To hundreds of family friends and acquaintances Susan by example, taught the meaning of courage through adversity, family values and community involvement. Susan devoted her life to finding and creating happiness for her family, friends and those in need. Her life-shaping legacy passes on to four living generations. She was the beloved wife of Bob Novick for 45 years. She was the caring devoted and cherished mother of Debby, Scott and Michael Novick, Wendy Fisher and their spouses. She was the loving grandmother of Amie Lidke and spouse, Joel, Jeremy, Zachary, Julia and Sammy Novick, and Tess and Lilly Fisher. She also was the adoring great grandmother of Jacob Lidke; and loving aunt of numerous nieces and nephews. Susan is survived by two sisters, Jane Eastman of York, Maine, and Martha Marzi of Cape Coral FL.
Susan was born in Bronx, NY, and attended Easton, PA High School, later receiving a Bachelor of Arts degree in elementary education at West Chester State Teachers College, graduating cum laude. She began her teaching career in Arlington, VA. The daughter of music store owners, Susan learned to play Wurlitzer organs at a very early age. As an accomplished organist in her teen years, she performed on a weekly television show from Easton, played for many fashion shows in the Lehigh Valley, taught blind students how to play the organ and was a featured organist at the Wurlitzer Music Convention halls at Radio City Music Hall in New York City in 1955. Susan has received honors recognizing her work with Temple Beth Hillel of Carmel, Big Brothers/Big Sisters of Comberland County, the American Cancer Society and the United Way Tennis Classic, where she served as chairperson for more than 20 years. She was an avid competitive team tennis player since moving to Vineland in 1971. She loved sports and coached tee-ball and soccer. Susan actively was involved with senior programs for many years in Cumberland County. Her passion in life was children. "Miss Sue" as she was known, was a weekly reader to children for many years at Borders bookstore and later at the Booksmith in the Cumberland Mall until her illness in early 2004. Additionally her love of nature was boundless. Susan was co-president of Temple Beth Hillel's Israel Library Board, Hadassah, Hebrew Woman's Benevolent Association and a frequent contributor to one of her favorite schools, the Early Learning Center at Beth Israel Congregation.
Friends will be received from 11:30 a.m. to 1:30 p.m. at Rone Funeral Service, 1110 E. Chestnut Ave., Vineland. Interment will follow at Alliance Cemetery in Norma.
Donations may be made to the Early Learning Center, 1015 E. Park Ave., Vineland, NJ 08360; Temple Beth Hillel, PO Box 2205,
Susan Novick