Easton High School


Class Of 1956
In Memory
Sylvia Knecht (Leamon)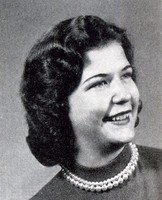 Sylvia K. Leamon, active in her church
Sylvia K. Leamon, 63 , of Easton, formerly of East Bangor, and Canajoharie, N.Y., died Thursday Jan. 31, in Pocono Medical Center.
She worked for Beechnut Baby Foods in Canajoharie for 15 years.
Born Jan. 15, 1939, in Easton, she was a daughter of the late Sylvester E. and Florence E. Diehl Knecht.
She was a member of First United Church of Christ in Easton, where she was a past member of the Christian Endeavor Society, sang in the choir and taught Sunday school.
She was a 1956 graduate of Easton High School.
She is survived by a son, William A. of New York City; a daughter, Amy M. of Wilson Borough; a companion, William Miller, with whom she resided; and two granddaughters.
A sister, Shirley Howard, died earlier.
A memorial service will be held at 1 p.m. Saturday, Feb. 9, in the Strunk Funeral Home, 2101 Northampton St., Wilson Borough. There will be no calling hours.
Burial will be private.
The family requests memorials to the Gracedale Resident Activity Account, care of Gracedale, the Northampton County nursing home in Upper Nazareth Towndhip, PA 18064