Easton High School


Class Of 1956
In Memory
Joan Kantner (Hall)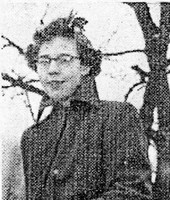 Joan A. Hall
Joan Ada Kantner Hall, passed away on Sunday, October 9, 2005 from a long battle with cancer.
Born: On May 14,1938 in Easton, Pa, she was a daughter of the late D. Sally Hitzel and Frank H. Kantner.
Personal: Those that knew Joan will always remember her desire to live life and enjoy the company of those that surround her. Our mom willingly and peacefully left her earthly vehicle. Her spirit will live on in the hearts of many people she touched.
She lived many years on the East Coast before moving to California; most recently living in Lompoc, Ca, on the Central Coastline, where she could be closer to her children and grand- children.
Joan loved her family very much and seemed to be her num- ber one priority. She loved cook- ing for family and friends. She could cook as well as a professional chef and knew how to please those with their favorite meals and desserts. Those that had dinner with the family could not wait to be invited again to enjoy Joan's home cooked meals. Outside of cooking, her second love was gardening. You would always find her in the yard planting and pruning.
Our mother will always be remembered for her generosity and her love to take care of others around her. She maintained long time friendships and always kept in contact with extended relatives. Her heart was enormous, her love was treasured.
From Marlene Noonan, daughter of Joan Hall: Our Mother's wishes were to place her obituary in her school newsletter.
Survivors: In Joan's last hours, she was surrounded by her children and grandchildren. Survivors include Linda Collins, and her children, John and Michael, Marlene Noonan and her husband, Brad, Sherrie Pinnick and her husband, Dennis, Deborah Harter and her children, Johnathon, Braydyn, Levyn, and her fiancee, Rick; James Pinnick and his wife, Jennifer, and Eric Schockman and Steven Crithfield.
Services: Joan's wishes were not to have services, but remember her and toast her spirit in heaven.
Memorials: Contributions may be made to the Hospice Partners of the Central Coast, 277 South Street, Suite R, San Luis Obispo, CA 93401.